Cosworth Nissan VQ35DE engine components
As you would expect from the legendary Formula 1 engine manufacturer, and Cosworth VQ35DE engines and components benefit from the same history of excellence and attention to detail that goes into the GP winning F1 engines. The same Cosworth Technicians who build F1 engines also build these VQ35DE engines.
Each and every Cosworth component is engineered to the very highest exacting standards, and all are designed to maximise the performance of the vehicle without compromising reliability, consistency, and crucially the driving experience.
Cosworth Big Valve Cylinder Heads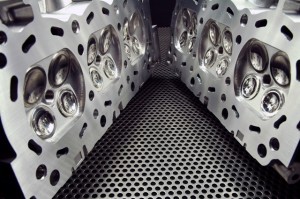 For over 40 years, Cosworth has been the leader in innovative multi-valve cylinder head design. The Cosworth CNC ported big valve cylinder head programme is the latest advancement. Modified from new OE castings, substantial gas flow improvements and upgraded valve train components offer superior performance for your high performance engine. Key features:
Uses new OE castings
Enlarged intake and exhaust ports
Large diameter stainless steel intake valves
Large diamter inconel exhaust valves
Hi-rev dual valve springs
Titanium retainers
Hardened steel spring seats
Reshaped combustion chambers
Precision multi angle valve seats
Machined port bore finish
Knife edge port divider
You can review and purchase Cosworth VQ35DE CNC ported cylinder heads here http://shop.tdi-plc.com/catalog/cosworth-ported-valve-cylinder-heads-p-9694.html
Cosworth High Performance short Block Assemblies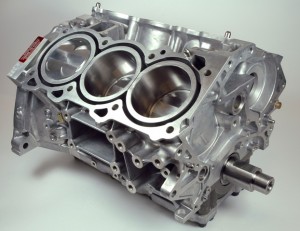 Each Cosworth high performance engine assembly starts with all new selected components as the foundation of the performance build. Every block is thoroughly inspected before the cylinders are honed to perfection. Then the rotating assembly is balanced to within 0.5 gram, which includes either a new factory forged crankshaft or a Cosworth billet crank, along with Cosworth steel rods and forged pistons. The Motorsport grade components are then  professionally assembled by expert F1 Technicians. Cosworth VQ35DE short block assemblies are available in 11:1 and 8.8:1 compression rations to suit naturally aspirated and forced induction applications respectively. Key features:
New Nissan forged crankshaft
Cosworth forged H beam connecting rods
Cosworth forged pistons
Cosworth tri-metal bearings
Cosworth heavy duty main studs
Piston cooling jets
Balanced to within 0.5 grams
Blue printed assemby
Cosworth VQ35DE short blocks can be reviewed and puchased here:
 Cosworth VQ35DE Forged Pistons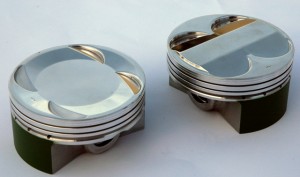 All Cosworth pistons are manufacturered using the same methods employed in Formula 1 to withstand the extreme forces experienced in high performance applications. Key features:
Unique F1 quality forgings for each application
Skire profile and oval technology to reduce engine noise
Xylan anti scuff skirt coating
Polished crowns to reduce carbon build up
Oil and gas control features
Offset pin bores for reduced engine noise
Ultra stong pins
Patented anti detonation bands
Cosworth VQ35DE forged pistons can be reviewed and purchased here:
Cosworth Forged Steel Connecting Rods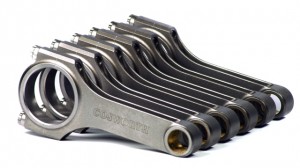 The connecting rod is the vital link between the piston and power. When engine output is increased, the demands on the connecting rods also increase so it's important to replace the standard rods with heavy duty specification components. Key features:
Cosworth high tensile bolts
High strength EN24 steel
Detailed machined work to maintain optimum strength and weight
H beam design for maximum strength
Radial truss small end for superior strength
You can review and purchase Cosworth VQ35 forged steel connecting rods here http://shop.tdi-plc.com/catalog/cosworth-connecting-beam-p-9697.html
Cosworth High performance Cylinder Head Stud Kits
Essential for high performance engine builds, heavy duty head studs reduce cylinder head movement in high boost and high compression applications, optimising gasket sealing. Key features:
High tensile 260,000psi strength
Roll die formed threads
Special heat treatment
Cosworth VQ35 cylinder head stud kits can be reviewed and purchased here http://shop.tdi-plc.com/catalog/cosworth-head-stud-high-performance-p-9703.html
Cosworth VQ35 High Performance Camshafts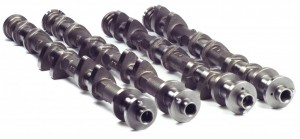 With over 50 years of camshaft design and engineering, Cosworth camshafts are the most efficient in provinding usable power across the widest power band. key features:
Ground from new blanks
Engineered and tested profiles
Broad power band
Cosworth VQ35 camshafts are available in two profiles and for both the early and "rev up" engines.
Cosworth VQ35 Twin Plenum Intake Manifold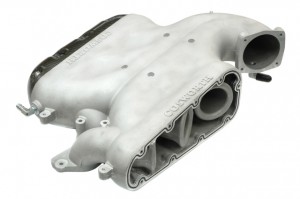 The Cosworth twin plenum intake manifold has been designed to enhance mid range and high RPM power. It features increased plenum volume for improved high RPM power while torque enhancing velocity stacks improve mid range torque. The Cosworth plenum is ideal for both naturally aspirated and forced induction engines, the standard strut brace and fuel rail can be retained.
You can review and purchase the Cosworth VQ35 twin plenum intake manifold here http://shop.tdi-plc.com/catalog/cosworth-intake-manifold-carbon-plenum-covers-p-14589.html
 Cosworth VQ35DE Valve Springs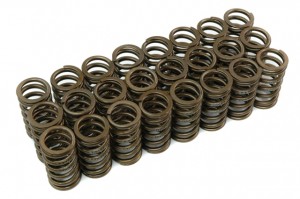 Cosworth valve springs are the result of countless hours of enginering, testing and validation ensuring the best possible spring for high performance applications. Ket features:
Manufactured from the finest Japanese Kobe steel
Professionally designed to have the perfect pressure and harmonics to control the vave train at high RPM.
Cosworth high performance valve springs are available in "high rpm" and "ultra high rpm" formats:
Our full range of Cosworth and other high performance components is available at http://shop.tdi-plc.com/catalog/parts-c-107_259_1114_1115.html