Cosworth Big Brake Kits – Evo X, 350Z and Imprezza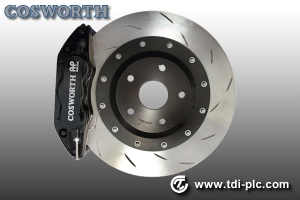 Cosworth has combined over 50 years of Motorsport heritage and technology with unrivalled experience of AP Racing to develop a range of joint branded Big Brake kits.
The Cosworth – AP Racing big brake kits deliver ultimate stopping power consistently and quickly from cold whilst offering corner weight reduction over the OEM brakes.
The Cosworth BBK calipers are 6 piston design with differential bores to eliminate Pad taper. The trailing pistons have a larger bore than the leading ones to compensate for mechanical end load and to even out the wear on the pads. All Cosworth – AP Racing calipers use conventional seals in conjunction with a dirt seal to maximise caliper service life, and finished in an attractive high gloss black PTFE coating which is impervious to normal brake fuids and high temperatures.
The 2 piece dics features Cosworth technology embedded within the 48 vaned discs, together with light weight high grade aluminium mounting bells designed to deliver better airflow than the OEM brakes. The discs have been developed to produce optimum braking bite, as well as thermal stability and durability.
The BBK upgrade kits also include a set of high performance brake pads, mounting brackets, brake hoses, fitting kit and DOT 5.1 brake fluid.
Specifications:
2 x 355 x 32mm two piece discs
2 x 6 piston brake calipers
High performance brake pads
Braided brake hoses
2 x Bottles of DOT 5.1 high temperature brake fluid
2 x Mounting brackets
2 x Aluminium mounting bells
Fitting kit
Cosworth Big Brake Kits are available for the following applications:
We can supply these by mail order for self-fitting, and we also offer a professional installation service. Please contact us for further information.