Cosworth Font Mounted Intercooler Kits (FMIC) – Impreza and Evo X
Cosworth now offers front mounted intercooler kits for the Subaru STI 2008 onwards, and the Mitsubishi Evo X!
With over 50 years of Motorsport heritage and technology at the very pinacle of motor racing, Cosworth brings a wealth of knowledge and quality to front mounted intercooler kits. Cosworth FMIC kits are currently available only for two applications:
Cosworth Front Mounted Intercooler Kit for Subaru STI 2008 owards: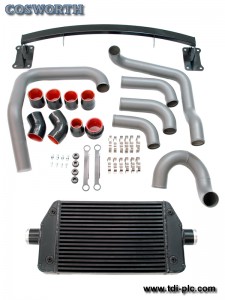 The Cosworth front mounted intercooler kit replaces the restrictive, heat-soak prone original top-mounted intercooler. The engineered system features an efficient aluminium high flow core  with madrel bent aluminium tubing for performance levels up to and exceeding 600hp. The intercooler core is rubber mounted on a secure bracket to prevent breakage.
Features:
Large efficient core available in anodised black for subtle appearance
Large diameter mandrel bent aluminium tubing with grey powder coated finish
4-ply heavy duty silicon coupling hoses
Liner hse clamps
The Cosworth front mounted intercooler kit for the Subaru Impreza STI 2008- is available at http://shop.tdi-plc.com/catalog/cosworth-front-mount-intercooler-system-p-16747.html
Cosworth Front Mounted Intercooler Kit for Mitsubishi Evo X:
The Cosworth front mounted intercooler for the Mitsubishi Evo X features cast aluminium end tanks and an efficient large core to ensure maximum charge air cooling capability. Steel brackets with rubber mounts proide optimal resistance to fatigue and premature failure. Installation does dot require any modofocations to the vehicle.
Features of the Cosworth Evo X FMIC:
Smooth transition cast aluminium end tanks for optimal airflow
Large, efficient intercooler core ensures low internal restriction and high-efficiency heat transfer
55% increase flow compared to OEM intercooler
Easy installation
Heavy duty brackets with rubber isolated mounting
4-ply heavy duty silicone couplings
Optional large diamter hard-pipe kit
Cosworth Intercooler Pipe Kit for Evo X:
The Cosworth intercooler pipe upgrade kit for the Evo X features large diameter single piece mandrel bent aluminium tubes with 4-ply silicone couplers, designed to reduce turbo lag and increase power.
The mounting location of the bypass valve has been optimised for reduced turbo lag, and is compatible with either the OEM valve or many aftermarket valves.
Features:
Bright silver durable powder coated finish
Relocated bypass valve for reduced turbo lag
Larger diamter tubes for reduced turbo lag
4-ply silicone couplers
Robust mounting system
The Cosworth Evo X intercooler pipe kit is available at https://www.tdi-plc.com/contact-us/