Cosworth Subaru EJ20 and EJ20 Dry Sump Kit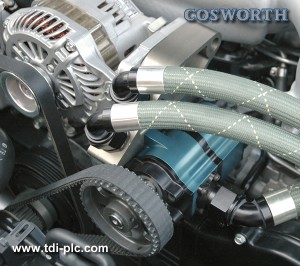 With over 50 years of heritage and world class F1 championship winning technology, Cosworth has unrivalled racing engine experience.
Cosworth brings this experience into their Subaru EJ20 and EJ25 dry sump system which is a must for performance and race applications. Dry sump oiling systems offer an unparralleld level of safety and reliability compared to factory wet sump systems. Complete crank case scavenging reduces excessive and residual oil that causes blow-by and power loss. A dry sump system also offers more consistent oil pressure to the engine, improving scavenging, and increased ring seal due to pan vacuum, There is also a power gain due to reduced crankshaft windage.
The Cosworth Subaru EJ20 and EJ25 dry sump system replaces the original oil sump pan with a machined from solid, low profile alloy pan with twin scavenge ports, internal baffling and o-ring sealing. A two stage scavenge pump driven by HTD belt, mounted to a heavy duty bracket evacuates the oil from the engine.
The dry sump system includes:
Sump machined from solid billet
2-stage scavenge pump
Pump mounting bracket/manifold
34T pump drive pulley
Cranshaft drive adaptor assembly
HTD drive belt
Fittings and hardware
Other parts required:
Oil tank
Hoses and couplings
2004-2007 Subaru STI alternator bracket
Cosworth high volume/high pressure oil pump
The Cosworth dry sump kit can be seen here http://shop.tdi-plc.com/catalog/cosworth-sump-p-16787.html
Our full range of Subaru high performance engine components can be seen here http://shop.tdi-plc.com/catalog/engine-hardware-technology-c-107_1296_1311_1312_1317.html