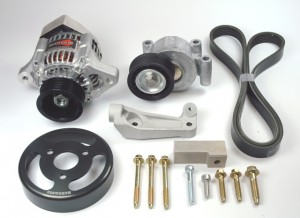 Ford Duratec Alternator Upgrade. Anyone running a Ford Duratec engine hard will probably have experienced alternator issues at some point. It's particularly a problem for endurance racing cars and has been known to be the cause of many aborted races.
This alternator upgrade kit from Cosworth deals with issue, and comprises of very high quality components including a 40 amp racing alternator, revised tensioner, water pump pulley, mounting brackets and hardware, and a drive belt.
It's available now at the very reasonable £504.88 plus vat.
You can review and purchase the Cosworth uprated alternator kit here.
Cosworth is a premier supplier of high-quality components for the performance aftermarket.
Every one of it's products is engineered to Cosworth's exacting standards and all are designed to maximise the performance of the vehicle without compromising reliability,consistency and crucially the driving experience.
Cosworth provides tailored services to Mainstream, Special Vehicles, Niche Manufacturers and Aftermarket spanning a complete solution from consultancy through to product supply.
Global OEMs, niche manufacturers and performance enthusiasts all rely on Cosworth to provide power and electronics systems.
At Torque Developments International, we offer well established and effective product distribution channels though our industry leading e-commerce web site and our worldwide network of sub-dealers.
In this increasingly polarized market place where it can be confusing for people to differentiate between good quality effective products and attractively priced alternatives, we provide guidance by endorsing brands and products that we are confident will afford good value.
We can supply products from these brands:
| | |
| --- | --- |
| AEM | High quality air filter and ECU solutions |
| Aquamist | Water injection systems |
| AP Racing | Brake systems and clutches |
| Blitz | Japanese performance parts manufacturer |
| Brembo | Brake systems |
| Carrill | Engine components |
| Centreforce | High performance clutches |
| Competition Clutches | High performance clutches |
| Cosworth | World famous manufacturer of engines and components |
| DTA | High level engine control systems |
| Eibach | High performance suspension systems |
| Helix | High performance clutches |
| HKS | Japan's number 1 tuning company |
| JE | Forged pistons |
| K&N | Air filter systems |
| Kleeman | Manufacturers of high performance components for Mercedes Benz cars |
| Koni | Good value suspension components |
| Life Racing | High level motorsport engine control systems |
| Mazdaspeed | High performance components |
| Motec | Manufacturers of motorsport electronic components |
| Mugen | Racing and high performance Honda components |
| Nismo | Nissan motorsports department |
| Nitron | Manufacturers of road and motorsport suspension components |
| Omex | Manufacturers of Clubman level engine control systems |
| Pectel | Manufacturers of motorsport engine control systems |
| Pro Alloy | Specialist fabricators of aluminium components |
| Race Logic | User adjustable traction control systems and development tools |
| Reverie | Designers and manufacturers of lightweight outclave carbon fibre   components |
| Syvecs | Motorsport engine control systems |
| STaSIS | Engine and chassis tuning products for Audi cars |
| Tein | Manufacturers of suspension components |
| TMC High Power | Manufacturers of nitrous oxide systems |
| Toda Racing | Highly respected race engine and component manufacturer |
| TRD | Toyota Racing Developments |
| Turbo Dynamics | Leading hybrid and bespoke turbocharger manufacturer |
| Zircotec | Thermal barrier coating manufacturer |