HKS DCT transmission oil cooler for Nissan GT-R35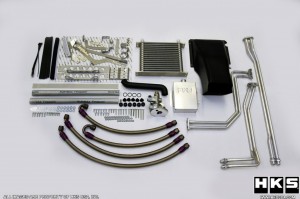 Now available at TDi-plc (Torque Developments) the HKS DCT transmission Oil Cooler kit for the 2011 Nissan R35 GT-R with the GR6 semi-automatic gearbox. Designed for both road and track driving, the HKS DCT Oil Cooler is designed to protect the clutch and transmission, plus offers a firmer gearshift – realistically if you want to take your GT-R on trackdays, you're going to need an HKS DCT cooler kit.
HKS has designed the DCT Oil Cooler kit to overcome the problems when the stock Nissan R35 GT-R is driven in a spirited manner, particularly on track. If subjected to any prolonged driving where the front and rear axle speeds differ, the oil temperatures in the DCT transmission start to climb and the car defaults into 2wd mode when the temps approach 140 degrees. Indeed Nissan recommends that the oil should be replaced if the temperatures get this high.
The HKS Nissan Skyline GT-R R35 transmission Oil Cooler kit incorporates the following features:-
Maximised cooler due to relocated oil cooler core in front left hand of bumper
Special FRP ducting for efficient core cooling
10mm Oil feed pipes for improved oil circulation
Oil outlet attachments that are specially designed for the GR6 version of the Nissan R35 GT-R
During HKS testing at the Fuji Speedway circuit using a professional driver, the HKS DCT Oil Cooler kit enabled continuous lapping with a stable oil temperature of 127 degrees C (during testing with the stock Nissan DCT system the temperatures reached 135 degrees C and the test was stopped.) The HKS DCT Oil Cooler kit also reduced the water temperature by 5 degrees C.
Please click here to order stating the model year of your car.