HKS FCON V Pro v4.0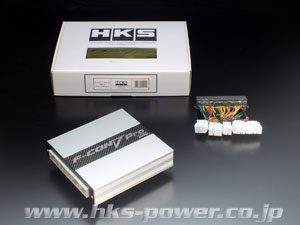 Having been an expert in Japanese car tuning for decades, and being familiar with HKS FCON ECU tuning for approximately 20 years, Torque Developments International is proud to now offer the latest version of HKS FCON V Pro v4.0.
It's now available in the following versions 2 making it user editable for the first time:
Outline
Multi-function stand-alone computer that enables advanced engine management for high-level professional tuners
Hardware with many input and output ports, software for flexible settings, harness that are easy to install, and Power Writer's user interface are provided by utilizing accumulated know-how.
■Functions
Analog Voltage Input
Throttle opening, water temp., air temp., and etc., 0 to 5V sensor can be input up to 20 channels.
A/F, Knocking Input
Connecting the A/F sensor (* option parts required) or knock sensor enables to measure the linear A/F or knock level.
Built-in Air Pressure Sensor
Air pressure sensor is built-in to provide stable control under various environment conditions.
Fuel & Ignition Control
Independent output control up to 8 channels, and sequential control is available up to 8 cylinders.
DC Motor Output
Controlling the electronic control throttle of DC motor type, which is widely used for the stock automobiles, is available up to 2 channels.
Other Output Control
Controlling the valve timing of HKS V-CAM system or stock system and boost pressure (※Option parts are required.) is available.
Also, controlling the output up to 22 channels, relay, and warning notice is possible under an optional condition.
Built-in Log Data Memory
8MB of memory to save the log data is available.
■Features
Mapping in real time (which is generally not possible using re-flash systems) allows for accurate and efficient mapping for all situations from simple "boost up" to full tuning applications. Data logging is also made possible for further feedback.
Please contact us for more information or to purchase.
We also offer a professional custom dyno tuning service for this ECU (and others) which you can read about here https://www.tdi-plc.com/performance-car-optimisation/ecu-remapping-and-carburettor-tuning/