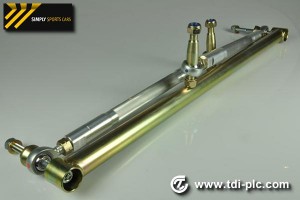 Lotus Elise & Exige Adjustable Toe Link Kit. The complete Rear Toe Link Brace solution – developed by Simply Sports Cars. Pros: Eliminates the compliance in your rear geometry set up. Cons: Fitment also requires a full alignment (Available through Torque Developments International).
A must for anyone putting their car on the track with R-Spec tyres. Suits Models: Toyota powered S2 Lotus Elise & Exige.
More details: The SSC rear toe-link kit has been designed to give the highest level of performance of any toe link kit on the market. It completely eliminates all weak points of the Lotus and other after- market systems by replacing all of the ball joints with the highest grade chrome moly spherical rod ends on both the inboard and outboard ends. Each side is linked by a seamless tubular steel cross brace which stiffens the whole assembly and puts the inboard end in double shear. The outboard end features a high tensile steel taper designed to fit directly into the upright eliminating any bending and play that can be found in the standard ball joints. The aluminium linkage arms have both RH and LH threads for easy adjustment of the rod ends and have been designed as a sacrificial part so that in the event of an accident only one component needs replacing and avoiding damage to the sub frame. The arms are knurled to aid fine adjustment. All turnings are CNC turned from high tensile steel and all components are zinc plated.
This set up increases stability and minimises rear toe movement when you need it most. Despite adding a stiffening cross brace the SSC kit at 2.3kg weighs less than the standard Lotus braces which weigh in at 2.4kg.
The SSC adjustable toe link kit can be reviewed and purchased by following this link.