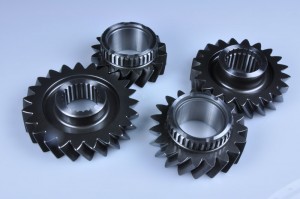 Lotus Exige & Elise S2 Uprated Transmission Kit
The achilles heel of the Elise/Exige S2 Tyoyota 2ZZ powertrain is the C60 transmission; specifically 3rd and 4th gears being the cause of much frustration on race and road cars alike!
Simply Sports Cars have addressed this issue with their uprated gear kits which are a thicker helical cut for added strength, and feature altered torque vectoring to reduce the internal loadings which contribute to premature failure.
This kit will cope with up to 400Nm so can be viewed as a "value add" to your pleasure, and has slightly longer ratios to reduce the gap between 4th and 5th gears and provide a slightly higher top speed to further enhance your driving experience.
Consider the SSC gear kit to be an essential purchase for heavy duty applications.
Being the exclusive European distributor for SSC, we are pleased to offer you this kit which can be can be reviewed and purchased here 
Please contact us for more information.
At Torque Developments International, we offer well established and effective product distribution channels though our industry leading e-commerce web site and our worldwide network of sub-dealers.
In this increasingly polarized market place where it can be confusing for people to differentiate between good quality effective products and attractively priced alternatives, we provide guidance by endorsing brands and products that we are confident will afford good value.
We can supply products from these brands:
AEM
High quality air filter and ECU solutions
Aquamist
Water injection systems
AP Racing
Brake systems and clutches
Blitz
Japanese performance parts manufacturer
Brembo
Brake systems
Carrill
Engine components
Centreforce
High performance clutches
Competition Clutches
High performance clutches
Cosworth
World famous manufacturer of engines and components
DTA
High level engine control systems
Eibach
High performance suspension systems
Helix
High performance clutches
HKS
Japan's number 1 tuning company
JE
Forged pistons
K&N
Air filter systems
Kleeman
Manufacturers of high performance components for Mercedes Benz cars
Koni
Good value suspension components
Life Racing
High level motorsport engine control systems
Mazdaspeed
High performance components
Motec
Manufacturers of motorsport electronic components
Mugen
Racing and high performance Honda components
Nismo
Nissan motorsports department
Nitron
Manufacturers of road and motorsport suspension components
Omex
Manufacturers of Clubman level engine control systems
Pectel
Manufacturers of motorsport engine control systems
Pro Alloy
Specialist fabricators of aluminium components
Race Logic
User adjustable traction control systems and development tools
Reverie
Designers and manufacturers of lightweight outclave carbon fibre   components
Syvecs
Motorsport engine control systems
STaSIS
Engine and chassis tuning products for Audi cars
Tein
Manufacturers of suspension components
TMC High Power
Manufacturers of nitrous oxide systems
Toda Racing
Highly respected race engine and component manufacturer
TRD
Toyota Racing Developments
Turbo Dynamics
Leading hybrid and bespoke turbocharger manufacturer
Zircotec
Thermal barrier coating manufacturer