Lotus Exige uprated drive shafts. Simply Sports Cars in collaboration with Holinger Engineering has produced an improved drive shaft system to cope with the rigours of racing making them ideal for high torque 2ZZ engine applications.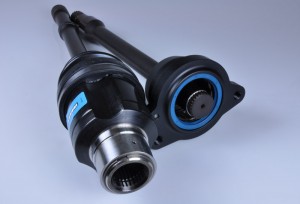 The main features of the Lotus Exige uprated drive shafts are the use of dual bearings in the carrier and the use of a tripode* joint instead of a CV inboard joint. Shafts are made from high grade aerospace materials.
* Tripode or Tripod joints are used at the inboard end of car driveshafts. A three-pointed yoke is attached to the shaft, with barrel-shaped roller bearings on the ends. These fit into a cup with three high-grade grooves that attach to the differential. The joint allows an axial 'plunge' movement of the shaft so that engine rocking and other effects do not preload the bearings
Being the exclusive European distributor for SSC, we are pleased to make these Lotus Exige uprated drive shafts available to you which can be reviewed and purchased here
At Torque Developments International, we offer well established and effective product distribution channels though our industry leading e-commerce web site and our worldwide network of sub-dealers.
In this increasingly polarized market place where it can be confusing for people to differentiate between good quality effective products and attractively priced alternatives, we provide guidance by endorsing brands and products that we are confident will afford good value.
Please contact us for more information.
We can supply products from these brands:
| | |
| --- | --- |
| AEM | High quality air filter and ECU solutions |
| Aquamist | Water injection systems |
| AP Racing | Brake systems and clutches |
| Blitz | Japanese performance parts manufacturer |
| Brembo | Brake systems |
| Carrill | Engine components |
| Centreforce | High performance clutches |
| Competition Clutches | High performance clutches |
| Cosworth | World famous manufacturer of engines and components |
| DTA | High level engine control systems |
| Eibach | High performance suspension systems |
| Helix | High performance clutches |
| HKS | Japan's number 1 tuning company |
| JE | Forged pistons |
| K&N | Air filter systems |
| Kleeman | Manufacturers of high performance components for Mercedes Benz cars |
| Koni | Good value suspension components |
| Life Racing | High level motorsport engine control systems |
| Mazdaspeed | High performance components |
| Motec | Manufacturers of motorsport electronic components |
| Mugen | Racing and high performance Honda components |
| Nismo | Nissan motorsports department |
| Nitron | Manufacturers of road and motorsport suspension components |
| Omex | Manufacturers of Clubman level engine control systems |
| Pectel | Manufacturers of motorsport engine control systems |
| Pro Alloy | Specialist fabricators of aluminium components |
| Race Logic | User adjustable traction control systems and development tools |
| Reverie | Designers and manufacturers of lightweight outclave carbon fibre   components |
| Syvecs | Motorsport engine control systems |
| STaSIS | Engine and chassis tuning products for Audi cars |
| Tein | Manufacturers of suspension components |
| TMC High Power | Manufacturers of nitrous oxide systems |
| Toda Racing | Highly respected race engine and component manufacturer |
| TRD | Toyota Racing Developments |
| Turbo Dynamics | Leading hybrid and bespoke turbocharger manufacturer |
| Zircotec | Thermal barrier coating manufacturer |