Description
HKS Turbo Timer – 41001-AK012

Function specialized in after-idling.
Simple, and easy to use

Simple operation just by pressing a switch.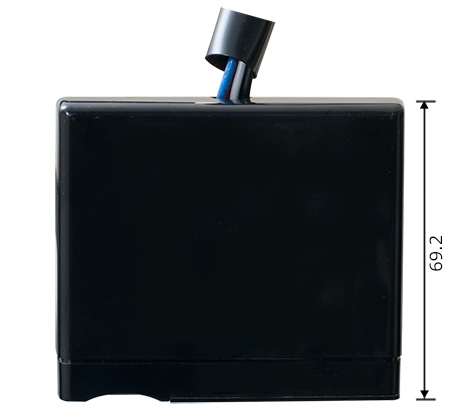 DC12V Negative Ground (Operation Voltage: DC10V~16V)
Large Capacity Relay Equipped
Ignition: 25A / Accessary: 25A
Stand-by Current: 10mA or lower
Operating Temperature: -20~60℃ (-4 to 140°F)
Setting Time Range: :1, 3, 5, 10, and 30 min.
Example of One Minute Time Range: Frequent after-idling for daily use.

Idling takes place after street driving, commuting, etc.
It is convenient when a driver has to leave the car right after the engine is shut off.

Example of 3 Minutes Time Range: Effective after-idling after driving a highway.

After idling can cool down the turbine and/or engine oil heated up by continuous high speed driving, and the engine shut off without imposing a load to the turbine and/or engine; therefore, the durability of the engine and engine oil is improved.

Example of 5 Minutes Time Range: Effective after-idling after circuit driving

When high load is applied to an engine, and an engine runs at a high speed, the engine and turbine may become in a condition close to a limit. With Turbo Timer, after-idling takes place even if the ignition is turned off by mistake so the engine and turbine may not be damaged.

Example of 10 Minutes Time Range: To keep the interior temperature when leaving a vehicle for a short time

With Turbo Timer, a driver can lock the vehicle door even while running an engine; it allows the vehicle interior temperature maintain when leaving the vehicle for ten minutes or so while reducing a load to a battery.

Example of 30 Minutes Time Range: To maintain the vehicle interior temperature in summer or winter

Maximum timer duration is 30 minutes. A long after-idling enables the vehicle interior temperature to be maintained for a long time.
(A long after-idling may not be allowed depending on the area, facility, local regulation, etc.)

■Functions
Single button control and red LED numerical display simplify operation and improve visibility.
5 time ranges selectable between 1, 3, 5, 10, and 30min. Maximum timer duration is 30 minutes.
Accurate time duration can be selected by manual setting.
Handbrake detective safety circuit
High capacity relay
Timer operation stops under unstable conditions caused by low voltage of a battery, etc.
■Application: Turbo vehicles that start the engine using the ignition key.
Not applicable to a vehicle equipped with the push-button ignition.
Existing Turbo Timer Harness is compatible.
※This product is not compatible some vehicles. Refer to the application list before purchasing this product.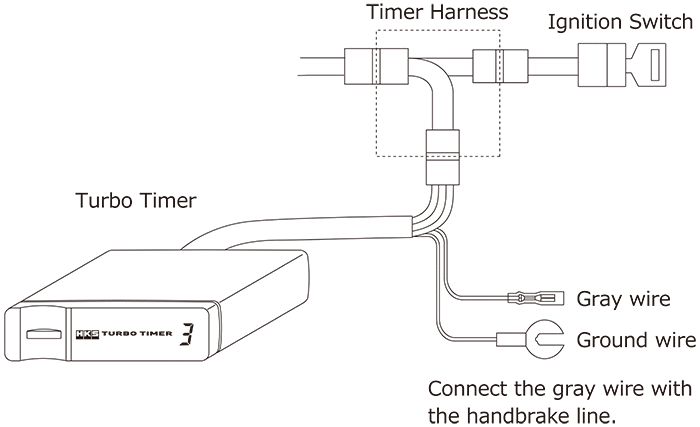 ■Features
Simple after-idling function and easy operation
Optimal touch button size for simple operation
Wavy panel design around the button for better operability. Capable of operating the button even in the dark.
Accurate setting is possible even by quick operation.
One-digit display for easy recognition of the set time
Time duration changed simply by pushing the button. Intuitive operations is possible.
Selecting "OFF mode" turns off the display and buzzer.
●Extension of Timer Duration
Maximum timer duration is 30 minutes.
Not only protecting the turbocharger, but also maintaining the temperature in a vehicle in summer and winter is possible.
For info on please go here
For info on our full range of goods and services please go here
In October 1973, two talented and spirited young engineers had a vision; to design and build high performance engines and components that major OE manufacturers could not or would not produce.
Led by Hiroyuki Hasegawa, a former engineer for Yamaha Motor Company, and his partner Goichi Kitagawa, the two secured a capital infusion from Sigma Automotive Co., Ltd. (hence the name "HKS "), and began tuning gasoline powered engines in a dairy-farming shed at the foot of Mount Fuji in Japan. A year later, Mr. Hasegawa designed and built the first aftermarket turbocharger for passenger cars and has never looked back.
HKS pioneered the Japanese aftermarket performance industry by delivering a host of exciting new products, including the first commercially available electronic turbo timer and boost controller. Other early products included piggy-back fuel computers and sophisticated fuel management tools. Clearly HKS was Driving Performance trends for Japanese vehicles.