Description
FA20 HKS 2.1L Stroker Kit (High Compression) – 21004-AT002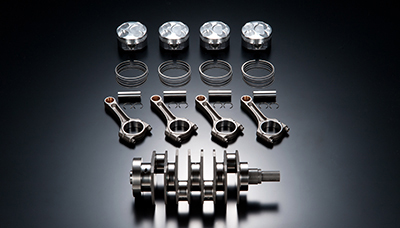 【Capacity Upgrade Kit for FA20】
Capacity Upgrade Kit developed by taking advantage of knowledge and experience acquired through D1 drift and time attack at Tsukuba Circuit.
This kit was designed exclusively for the FA20 engine by meticulous analysis and experiment. HKS delivers this kit with "Made in Japan" quality.
High-performance specifications withstanding 550(ps)-50(kgf・m)!
This kit is for people who want to upgrade all the way including the engine internals.
FEATURES
POINT-1:PISTON KIT

Carefully selected specially forged raw materials used.
Replacing the gasket enables both NA and turbo-charged engine users to use this kit.
In order to cope with the demands of high outputs, strength analysis and tests have allowed optimization of compression ratio for flexibility of setup and high boost use.
Piston crown had 3D design in consideration of the stock direct injection system.
Stock pistons skirts overhang from the block during the bottom of travel. Short height pistons have revised potential issues in this area.
Friction, weight, and other design properties to suit the needs of short-height pistons.

POINT-2:CONNECTING ROD

Specific connecting rods have been designed to suit the longer stroke.
With no engine modifications, a special size crankpin has been set requiring new bearings.
※The crank metals (Nissan RB26 & SR) must be purchased separately.
High strength I beam design and revised connecting rod bolt size.

POINT-3:CRANKSHAFT STROKE 90.0mm

Made from HKS special forged material
Perfect pin journal size was selected by meticulous analysis and experiment for extended stroke.
Carefully designed weights balance the engine for maximum efficiency.

POINT-4:Stock Bore Compatible 86.0mm

In order to maintain the engine block strength, the stock bore size is maintained meaning there is no need for cylinder liners
Reduces the cost of installation as liners, bore & hone, and block facing processes are unnecessary.
Stock
HKS 2.1L
Piston
Bore dia. mm
86
86
Displacement cc
1998.2
2091.2
Comp. Ratio (measured)
G/K 0.5 mm
12.1
12.4
G/K 0.6 mm
12
12.3
G/K 0.7 mm
11.9
12.1
G/K 1.0 mm
11.5
11.8
Boring/Horing
–
n/n
Remarks
Cast D. ignition
Forged D. ignition
Con'rod
Big end dia.
53
51 (RB & SR)
Bolt size
M9.5
M8
Remarks
Split I-beam
Split I-beam
Crankshaft
Stroke mm
86
90
Main journal dia.
68
68
Pin journal dia.
50
48
Remarks
Forged
Forged
PERFORMANCE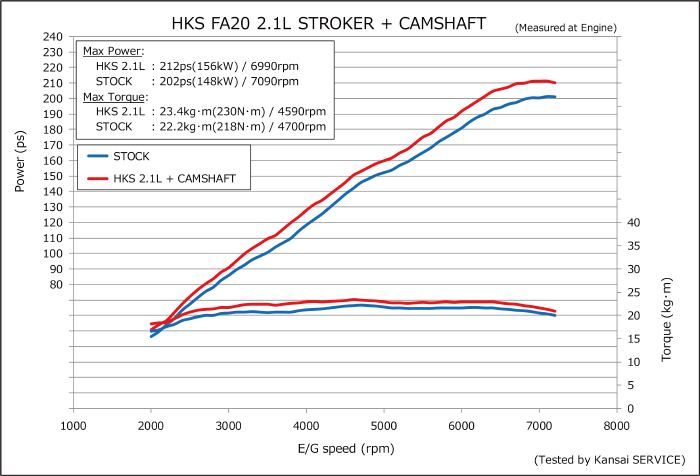 Test vehicle
Vehicle
BRZ(ZC6) Kansai demo car
Engine
FA20
Transmission
6MT
Parts
Specification
Suction
HKS Premium Suction
Exhaust Manifold
Kansai original
Front Pipe
Kansai original
Exhaust system
HKS Hi-Power Spec L
I/J
Stock
Fuel Pump
Stock
CPU
Kansai original ECU
Other
Big throttle
2.1L kit + Camshaft were tested on Kansai Service's demo car with NA engine.
This graph shows before & after installation.
Upgrading the capacity exceeds the stock engine power in whole power range.
Power increase continues to the high rpm range by using the camshaft together with 2.1L Kit.
Test supported by Kansai Service.
For info on FA20 HKS 2.1L Stroker Kit (High Compression) please go here
For info on our full range of goods and services please go here