Description
RB26DETT HKS Oil Pump Upgrade
Code no. 15003-AN001
【OIL PUMP UPGRADE】
for RB26DETT
A newly designed case shape improves durability and oil flow amount. HKS Oil Pump Upgrade provides a reliable oil supply for tuned engines.
FEATURES
Larger rotor increases oil flow amount compared to the existing pump.
New improved design now includes adjustable oil relief pressure (the alternator must be removed.). Utilizing outer shim enables adjustment to be visible.
The thickness of the driving rotor's contact portion is increased, and the contact surface shape is optimized.
Thickness increase and material upgrade retain twice as much of rotor strength as the stock pump.
HKS Oil Pumps have reviewed the case design to retain sufficient rotor strength and to reduce oil flow resistance after applying pressure.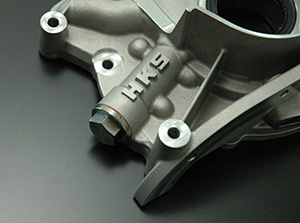 HKS
STOCK
Discharge (L/min.) @6000rpm
65
38% up
42-47
Hydraulic Adjustment
Available
(Adjustable when installed)
Not Available
Roter
Material
SCM435
Liquefied sintered Allow
Outer Size
Outer Diameter
φ88
φ81
Tooth Width (mm)
12.4
12% UP
11.0
Tooth Number (mm)
10:11
12:13
Min. Thickness
Inner (mm)
7.4
37% UP
5.4
Outer (mm)
5.0
11% UP
4.5
For info on RB26DETT HKS Oil Pump Upgrade please go here
For info on our full range of goods and services please go here
To develop ENGINE parts HKS uses all the knowledge acquired from drag race, road race, and drifting.
What in-house production can do.
HKS follows the philosophy of in-house production for the engine parts. We are not simply making some parts, neither do we follow the ideas of stock car makers, in HKS we go through each and every step from designing to manufacturing to testing and mass production. Each product undergoes numerous cycles of test and redesigns to achieve outstanding performance and excellent quality. This is an indispensable part of our business philosophy, that we believe is essential for the aftermarket parts maker. This is how we work for 40 years and this idea will continue to lie at the basis of how we enhance our products to fulfill the expectations of our customers.