Description
Honda SPF ODYSSEY R1/R2

【SUPER POWER FLOW】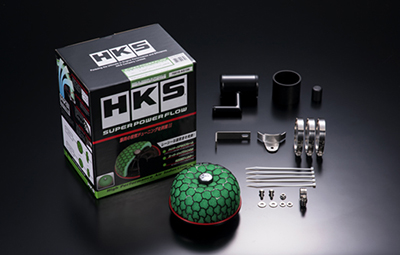 A renowned Super Air Flow filter that is trusted all over the world evolves further with a new stealth frame.
Stealth frame is redesigned!
"Hyper Stealth Frame" exceeds the performance of previous Super Stealth frame.
Increasing air intake surface area by 27% improves air intake efficiency.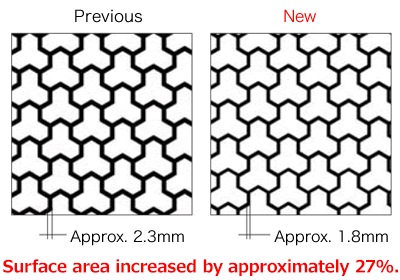 Bold white HKS logo printed on black anodized back plate accentuates the engine bay!
The outer edge of the funnel is securely fixed to the aluminum back plate. Use of aluminum significantly improves rigidity and durability. Alumite process improves surface of the funnel and also provides a sleek black look.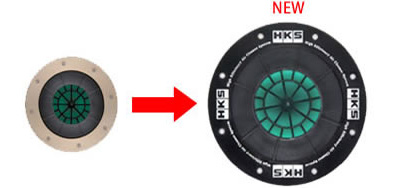 Light sports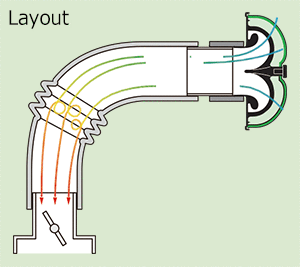 Techology
Ambient exposure type air clearner has larger area of induction inlet that increases intake air volume. Engine horsepower and torque become higher than a stock repiacement type.
Without air clearner box, sporty intake sound is created.
Point
Free layout and larger inlet area will increase performance of engine.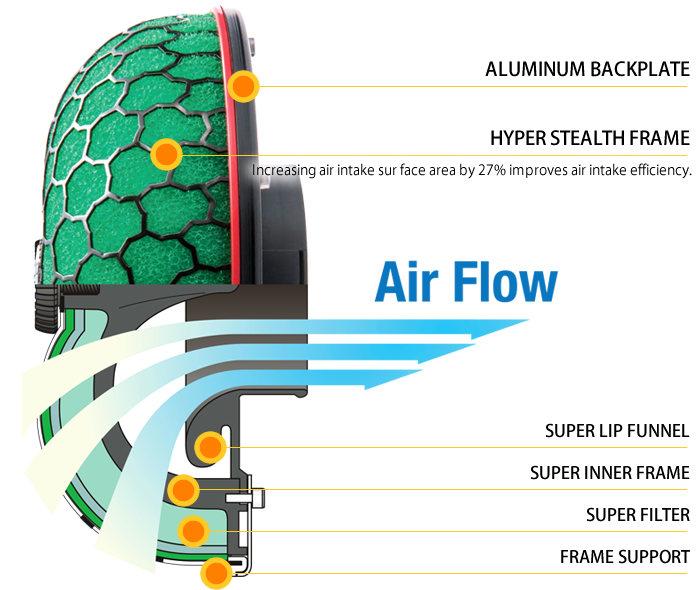 Features
Frame Support
Fits flexibly to aluminum back plate, securely fixes hyper stealth frame. It also serves as a guide for attaching the filter to the hemispherical surface, improving maintainability such as filter replacement.

Super power flow with dry type 3-layer type
The 3-layer dry-type polyurethane filter provides high air intake efficiency, dust filtration, and long product life.
* Wet type 2 layer type exchange filter can also be used

Super Inner Frame
The cross section of the inner frame is streamlined with 16 frames parabolically placed towards the center.
Simple lightweight frame design provides smoother air flow.

Super Lip Funnel
The defining feature of HKS intake: "Super Lip Funnel".
Super Lip Funnel maximizes air intake surface area in the limited space in the engine bay and optimizes air intake efficiency.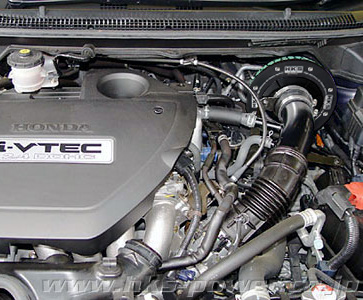 ■Feature
The engine runs swiftly from mid to high speed range. The driving feeling is much enhanced.
Sporty intake sound makes driving more fun.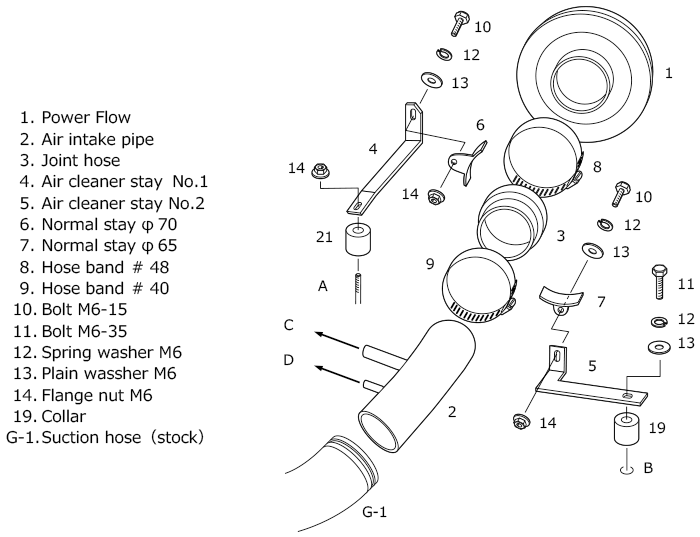 ■Remaks
The Super Power Flow is an air cleaner for engine. Please change the filter regularly to have efficiency of Super Power Flow Filter.
By installing this product, the engine output will get stronger therefore we recommend you to change for high temperature type spark plug. If you drive such as race of other or other sporty tuff drive, it's a must to change.
This product is designed for normal vehicle but for some case you might need to reset the air flow meter of output adjustment device or fuel control device (F-CON etc).
| | | | | | | | | | |
| --- | --- | --- | --- | --- | --- | --- | --- | --- | --- |
| Vehicle | Classification | Model | Engine | Model Year | Style | Size | Code No. | Manual | Remarks |
| ODYSSEY | LA-, UA-, ABA-, DBA- | RB1 | K24A | 03/10 -08/10 | Super Power Flow |  Φ200-70/Green | 70019-AH106 | | |
| ODYSSEY | LA-, UA-, ABA-, DBA- | RB2 | K24A | 03/10 -08/10 | Super Power Flow |  Φ200-70/Green | 70019-AH106 | | |
For info on Honda SPF ODYSSEY R1/R2 please go here
For info on our full range of goods and services please go here