Description
McLaren 570S FRS Optimisation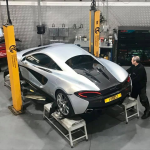 We have had excellent feedback on our Stage 1 McLaren 570S FRS Optimisation! Most McLaren drivers report feelings of chassis nervousness and non-linear performance characteristics which reduces confidence and driving pleasure.
Drawing of our years of expertise in Chassis Dynamics we have spent a considerable effort in developing revised geometry settings that transform the dynamic performance of the McLaren 570S.
Our objective was to make the chassis more balanced, settled and linear so that the driver can have greater confidence in pushing the car to it's limits.
Customer feedback from the first ever McLaren we did: " it's like driving a completely different car and is so much more confident pushing the car now so much so he's booked it on the Nürburgring"
Please note that this is a drive in – drive out only service.