Toyota GT86 Nitron NTR R1 suspension.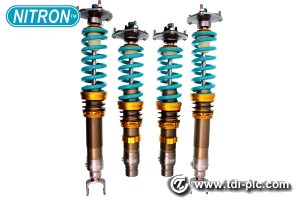 Premium track-day and fast road riding… Esteemed by racers and race series' around the world, NTR Race R1 kits provide the answer to uncompromising quality, reliability and performance without the need for a remote canister. Fade-resistant and hand built with ultra-low friction components, the Race R1 shock is made to last on the track and road. The high-grade materials protect against corrosion whilst significantly reducing weight. Every R1 kit is custom built, sprung and fully serviceable. A double-acting single dial delivers effortless control over wide-ranging damping adjustments; allowing the vehicle to rapidly react and adapt to changing circuit conditions. Titanium Finish Titanium and hard-anodised parts are hand built to last not only the lengthiest endurance races but also the harshest of winters. Data Logging Race R1 shocks are available with incorporated data-logging potentiometer mounts. Note:Image used for illustration purposes only. Specific shock end fittings may differ from that shown.
You can review and purchase the GT86 Nitron suspension system here http://shop.tdi-plc.com/catalog/nitron-race-suspension-p-20016.html
Nitron shocks are billet machined and hand built entirely in the UK. Each fully-serviceable shock is customised to your specific spring and damping configuration requirements by our highly experienced team. Aesthetics also play a vital part of our design process to ensure that the look and feel of our shocks rank among the best in the world.