Gruppe M induction System for Lamborghini Gallardo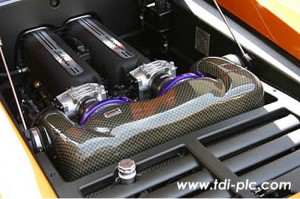 If you were to think that the 550hp Lambourghini Gallaro is fast enough and has a very efficient air filter system, you would be mistaken!
Japanese manufacturer Gruppe M offers this superb quality carbon fibre high performance induction system which offers less restriction to provide a more efficient intake, to enhance the power and intake sound further.
As you would expect, the quality is exceptional and is a perfect fitment.
The Gruppe M Ram Air Ainduction System can be reviewed and puchased at http://shop.tdi-plc.com/catalog/gruppe-charger-carbon-p-1804.html
How can heat, which has a huge influence on engine performance, be blocked? Exploring every potentiality, we persevered investigating every approach. Our aim however, would be to perfect a technique that would isolate the air intake passage from the engine compartment completely. That was our mission; this concept. Of course, there are the original (genuine) components, however, these components cannot reach "completeness" in terms of efficiency, because automobile manufacturers must make design concessions to meet cost criteria. In contrast however, Gruppe M pursues the ideal, without being subject to those constraints. Engineered to increase airflow, increase air velocity, stabilize the flow pattern, decrease intake air temperature, and decrease weight, the Gruppe M ram air intake system takes high-performance to a new level. Zero-tolerance manufacturing processes and expert craftsmanship, with efficiency being of the highest consideration, deliver intake systems worthy of the name "Air Intake Specialist".
Design
To acquire power through the combustion engine process, it is not possible to avoid relation with air. The way in which higher oxygen content and cooler, clean air is readily supplied, is the important element for increased combustion efficiency. It is well understood that direct inhalation of air without passing through an air filter causes risk, dust and rubbish causing strain to the engine and related systems. However the filter itself may become an obstruction to air inhalation that diminishes combustion efficiency. Within the field of this dilemma, K&N has built a long history, from which comes the conception of the multilayer wet cotton fibre filter. By employing a conical filter shape, success in achieving both increased airflow velocity, and lower temperature is achieved. The restricted space in the engine compartment is used as effectively as possible through extensive design, and the route of the inhaled air is isolated nearly completely from the engine compartment by the intake duct made of carbon fibre. Moreover, the form of the intake duct has been calculated to exponentially raise the velocity of air by ram pressure. Not based solely upon the assiduity of a wealth of data, but due to repeated testing and trialing, an air intake not merely for form's sake, but of real demonstrated performance is accomplished.