Cosworth Streetmaster and Trackmaster Brake Pads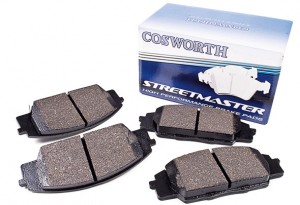 With over 50 years of heritage and technology at the very highest levels of Motorsport, Cosworth brings this expertise a new range of brake pads: Cosworth Streetmatser and Trackmaster brake pads.
With two grades of friction material available, the Streetmaster and Trackmaster ranges deliver exceptional level levels of stopping power specifically  tailored for fast road and track applications respectively.
Manufactured in the UK, Cosworth brake pads feature a 1.5mm granulated interlayer which not only serves to act as a shock absorber, helping to reduce stress on the rotor surface but also triples bonding strength so diminishing edge lifting.
To reduce the "bedding-in" process, which is the time taken for the pad and disc to work properly together,, all Cosworth pads are seared. This process heats the the friction material to in excess of 600 degrees C, toasting the the surface, greatly enhancing  the performance the first time that the brakes are applied. This also significantly reduces initial fading.
Cosworth brake pads offer exceptional performance with no compromise, and have the following features:
Heat seared for reduced bedding-in
Supererior bite from cold
Exceptional stopping performance
Silent running technology
V groove fro fast debris clearance
Fade resistant
Premium grade friction material
Consistent and predictable braking patters
Cosworth Streetmaster brake pads have the following features:
Medium-hard sports pad suitable for heavy duty/fast road use
ECE R90 compliant
Superior bite from first pedal application
Strong brakinmg performance up to 650 degrees C
Chamfered edges to reduce lifting
Durability factor 6.5 with minimal disc abration
Comes with premium quality shims
Cosworth Trackmaster brake pads have the following features:
Ideal for track use
Extremely high coefficient of friction
Strong braking performance through to 800 degrees C
V line groove removes debris
Durability factor 9.5 with minimal disc abration
Super fast bed-in, normally less than 2 laps
Heat stable, predictable and heat cycle very well
Can be used safely on highways except in Europe where it doesn't have ECE R90 approval
Cosworth Streetmaster and Trackmaster are available for the following applications:
Ford Fiesta 2.0 ST
Ford Escort 2.0 Cosworth
Ford Focus 2.5 Turbo ST
Ford Focus 2.5 Turbo RS
Ford Sierra/Sapphire 2.0 Cosworth
Ford Sierra/Sapphire 2.0 Cosworth 4×4
Honda S2000
Honda Civic EP3
Honda Civic FN2
Honda Integra DC5
Mazda MX5
Mitsubishi Evo 5
Mitsubishi Evo 6
Mitsubishi Evo 7
Mitsubishi Evo 8
Mitsubishi Evo 9
Mitsubishi Evo 10
Nissan GT-R 35
Nissan Skyline GTR32
Nissan Skyline GTS33
Nissan Skyline GTT34
Nissan 350Z (Brembo)
Subaru Impreza – all models
For all your Cosworth Streetmaster and Trackmaster Brake Pads requirements, please contact us if you would like further information or would like to buy them https://www.tdi-plc.com/contact-us/