Nissan Juke Performance Upgrades. HKS performance exhausts & induction upgrades now available from TDi-plc for Nissan Juke
Nissan's Juke is real 'Marmite' car. Some would say that it's a surefire entrant for the Ugly Bug ball, while others would say that it's bold styling reflects Nissan's attempts to stand out from the 'urban crossover' crowd.
Either way, one thing petrolheads are sure to agree on is that the Nissan Juke would benefit from some high performance personalisation in form of a brand spanking new range of upgrades from our good friends at HKS.
Nissan Juke HKS Racing Suction Reloaded
Starting on the inlet side, HKS has unveiled a Racing Suction Reloaded induction kit, which gives a measurable power increase, plus a sporty intake noise and a great underbonnet appearance courtesy of a buff finished alloy pipe and red aluminium cylinder head louvre. As with all HKS products it's a great way of adding a high quality, reliable dose of excitement to your daily drive!
It's available now from Torque Developments International Plc (TDi-plc) for the following Nissan Juke models, the 1.6 DiG-T (187 bhp turbo petrol) and the 1.6-litre (115bhp non-turbo petrol,) priced at £345.00 excluding VAT. Click here for more details.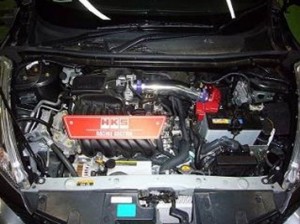 HKS SQV IV Super Sequential blow off valve for 1.6-litre turbo petrol Nissan Juke models
The second product from HKS's new range of Nissan Juke performance upgrades is the is a new Super Sequential SQV IV recirculation (aka 'dump') valve for the 187bhp 1.6 DiG-T turbo petrol models. While offering no performance increase, the increase reactivity of the HKS recirculation valve prevents compressor stalling on remapped Nissan Juke turbos, offering a unique and distinctive sound that emphasises the turbocharger and adds an exciting soundtrack to your Juke.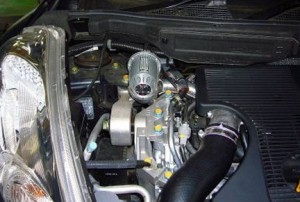 Priced at just £236.50 plus taxes, the HKS Nissan Juke 1.6 DiG-T Super Sequential blow-off valve is available from Torque Developments now, click here for more details and to buy now!
HKS ES Premium Elegant and Sports Exhausts for Nissan Juke
Finally HKS has launched a highly desirable trio of performance exhausts from Nissan Juke owners. Offering superior materials, great looks and low resonance design that still offers a sport but subtle exhaust note, the HKS ES Premium exhausts are a proven way of personalising your Nissan Juke with a soundtrack that you'll love!
The HKS ES Elegant and Sports Premium exhausts for the 1.6-litre DiG-T turbocharged, 1.6-litre non-turbo petrol and four wheel drive (4wd) Nissan Juke models are produced from stainless steel throughout. The designs feature a 50.8mm (2 inch) bore main pipe and a 94mm (3.7 inch) single round tailpipe (80mm twin pipes on the 4wd version,) careful design by HKS's Japanese engineers and the incorporation of a 'Silent Chamber' reduces low frequency resonance, making this an exhaust system you can live with everyday!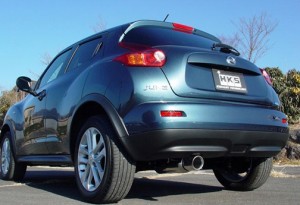 Priced from £395.00 excluding VAT, the ES Elegant and Sports Premium performance exhaust systems are available now from principle HKS distributor Torque Developments International (TDi-plc,) click here for more details.
So why live with an ordinary Nissan Juke when you can make yours stand out from the crowd with Torque Developments and HKS!
Road cars normally have entirely different objectives to competition vehicles so we pay very careful attention to criteria such as noise/vibration/harshness, performance linearity and balance, maximising vehicle and driveline life span etc in order for the driver to derive maximum pleasure from the driving experience as well as delivering impressive performance.
Our performance packages are professionally developed tuning paths that we have split into two streams in order to satisfy a broad spectrum of differing expectations. We call these streams "Sports" and "Super Sports" within which there are up to three levels of upgrades. Each stream and each upgrade has been carefully considered to provide an optimised package to provide an excellent blend of engine, chassis and braking performance.
Sports Tuning Packages
Our "Sports" range of tuning packages has been designed especially so that as many people as possible can access the exciting world of car tuning and car personalisation.
Whilst building this range of packages we have deliberately concentrated on suggesting parts which we know to perform extremely well but which cost a little less than some of the alternative parts in the market.
So for all of the cost savvy tuners you now have our personal recommendations as to what is really worth a look at when you are working within a budget.
Super Sports Tuning Packages
Our "Super Sports" range of tuning packages has been designed with nothing but ultimate results in mind.
To build these tuning packages we allowed our engineer's to operate free from cost constraints and instead concentrate solely on choosing products which exhibit the very best in design integrity and manufacturing quality.
For when you have some room in your budget and only the very best automotive engineering will do.
Tuning Menu
Within the "Sports" and "Super Sports" paths we have developed a menu of up to three levels tuning:
S Pack: Entry level upgrade package
R Pack: High level upgrade package
X Pack: Extreme level upgrade package
Custom Tune
For vehicle models which we do not offer Sports or Super Sports upgrade paths, we are able to advise you and provide a solution to suit your objectives, so please contact us to discuss your specific requirements. You can also select components yourself from our web store.