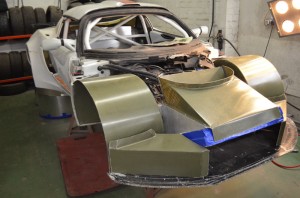 Lotus Exige Super 200 Project. Kent based Lotus specialist Maidstone Sports Cars has enlisted our help with their latest ground breaking endeavors; the Exige Super 200 project.
No stranger to interesting and race winning cars, Maidstone Sports Cars is building this Lotus in order to be the first Exige to exceed 200 MPH!
We've acted as Technical Partner for many of their previous projects and clients vehicles, and we're very excited to be included in the Super 200 project.
Andy Marsh of Maidstone Sports Cars commented: "Maidstone Sports Cars has been using Torque Developments International as a technical partner for over 6 years and have been more than satisfied with the technical expertise and professionalism offered by TDI during this period.
Maidstone Sports Cars will continue to use Torque Developments International for the foreseeable future while they continue to help us deliver cost effective and successful results to our clients time after time."
You can keep up to date with this project by following their blog and Facebook page.
Torque Developments International is a respected automotive industry engineering consultancy with deep core skills in the specialist fields of Powertrain Dynamics, Chassis Dynamics, Aerodynamics and Electronic Systems.
Torque Development's people are committed to providing outstanding value for money through quality engineering solutions focused on high performance, high efficiency, niche market product innovation and robust strategic implementation.
Value Propositions:
Engineering project consultant
Engineering project main or sub contractor
Product evaluation and sign – off
Professional Expert Witness