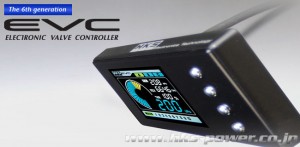 HKS EVC 6 Boost Controller
TDi-plc (Torque Developments International) is pleased to announce the release of the latest 2011 generation of HKS EVC 6 electronic boost controller, which now incorporates a colour screen and numerous improvements over previous versions.
A 'must have' for any tuned turbocharged car, the 2011 HKS EVC 6 boost controller offers an enhanced user interface, a faster response time, improved data logging and superior reliability, combined with great value for money. Built around an new generation CPU called the HKS "EVC Hyper Engine," control speed and reactivity are unmatched.
TFT Full Color Monitor : Clearer and high level of visibility
Monitor Navigate System : Simplified setting of data logging monitor
Boost control stepper motor : Proven technology improvements to the valve unit
Boost control valve size is reduced to 2/3 of the conventional valve
Boost control setting range is from stock to 300kPa
See the new 2011 HKS EVC 6 Boost controller in action (note click on 'CC' for English subtitles) :- HKS EVC 6 Boost Controller
Carrying part number 45003-AK010, the new 2011 HKS EVC6 boost controller is available now from principal HKS Europe distributor TDi-plc (Torque Developments) for £495.00 excluding VAT.
And there's never been a better time to buy the HKS EVC6 – because for a limited time only while stocks last, the new EVC6 will be supplied with a set of blue HKS silicone vacuum hoses. Freephone Torque Developments plc on 0800 107 3250 or email [email protected] to take advantage of this offer.