New TODA 'High Power' performance exhausts for the Honda NSX now available from Torque Developments International
Honda's NSX is the stuff of legend. Developed with input from Ayrton Senna, produced by Honda for 15 years with only minor changes, it's the Japanese supercar that shook the Italians and forced them to raise their game.
Which means that when it comes to fitting a NSX with performance exhaust it needs to be a top quality item befitting of the Honda supercar's legend – which is where Japanese tuning house TODA Racing comes in.
It's just launched a new range of 'High Power' exhausts for both the 3.0-litre (C30A, 270bhp,) and 3.2-litre (C32B, 290bhp) variants of the Honda NSX.
Featuring an innovative 'X-pipe' between the two silencer boxes to minimise back pressure and maximise the aural experience from the NSX's high revving V6 engine, the TODA 'High Power' exhaust features 60mm diameter internal tubing and slash cut round tailpipes boasting a smart titanium blue finish.
Surely these TODA exhausts are perfect for any discerning Honda NSX owner and they are available now from TODA Europe, priced at £2025.00 excluding taxes.
For more information, please click on: C30A Toda Racing Exhaust and C32B Toda Racing Exhaust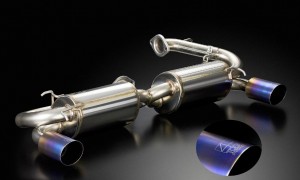 TODA RACING designs and manufactures racing engines and automotive components.
Since the company's establishment, we have continually strived to understand how to burn each drop of fuel more efficiently.
With the goal of increasing combustion efficiency, reducing fuel consumption and lowering emission outputs, our recent research and development endeavours have primarily focused on the application of advanced technologies, such as direct injection systems, into advanced eco-friendly engines.
TODA Racing has started as a formula machine constructor in 1971. Utilizing the advantages in our racing experience, we supply TODA original racing parts such as camshafts and pistons. We also focus on engine development and research and development for combustion efficiency, reducing fuel consumption, and lowing emissions.