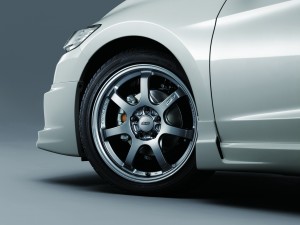 Mugen 'GP' lightweight alloy wheels for Honda CR-Z
Honda's new sporting CR-Z has been making waves thanks to its blend of frugal performance, fun dynamics and distinctive styling. But the CR-Z is set to get even more exciting because Honda performance specialist Mugen is pleased to announce the launch of the first in a large range of enhancement products for hybrid coupe.
Heading the Mugen line up of CR-Z components is a new set of lightweight 7 x 17 inch 'GP' seven spoke alloy wheels. The key technical advantages of the Mugen GP wheels include:-
Superior overall strength and uniform torsional rigidity due to spun forged alloy construction and optimised design
Up to 4 KG unsprung weight saving per Mugen wheel compared to original equipment Honda CR-Z rims to enhance dynamics
Two high quality Mugen colour finishes available, Gun Metallic and Bronze
Recommended tyre fitment is 205 / 45 / R17
Priced at £855.40 each including VAT @ 17.5%, the Honda CR-Z Mugen alloy wheels are available now from Torque Developments Plc.

The MUGEN GP alloys and accessories can be reviewed and purchased here.
Our full range of tuning products and Sports and Super Sports performance packages can be reviewed here
Tel: 0800 107 3250           [email protected]         www.tdi-plc.com