Description
Piston Kit 86.5mm Evo X 4B11 2.2L Stroker Kit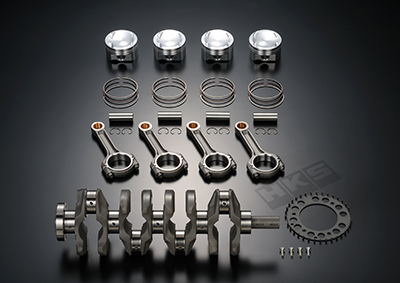 * The plate-shaped item is the crankshaft angle sensor plate. It has processed the stock to install at the HKS forged crank.

【Capacity Upgrade Kit 4B11 2.2L】
Designed under the concept of "Race Specification with Low Cost". This kit has been tested not only on the engine bench, but through circuit testing and analysis.
Using with the HKS GT3240 Full Turbine Kit can achieve 580PS and 72kgm, which is the same engine specification of the Tsukuba record time holder of CZ200S.
FEATURES
<POINT-1> Big benefits from increased displacement!
Kit increases 4B11 displacement from stock of 1,998cc to 2,139cc.
The difference in displacement creates a massive difference in torque and also makes it possible to match large volume turbines for maximum power. HKS tests have found that over 70Kgm torque output is possible.
* HKS demo car with this kit and GT3240 full turbo kit has already proven its ability by achieving a time of 57 seconds at Tsukuba 2000 circuit.
<POINT-2> "Race Specification" at an incredible price!
In order to have many people enjoy this kit, a new machine has been invented to reduce manufacturing time and help to reduce cost
* Many competitors use an OEM crank to reduce costs while increasing stroke. The HKS crank has been designed and made for racing specifications by using the most suitable materials and manufacturing processes. Forged pistons, forged connecting rods and a crank made from special forged materials allows this kit to be suitable to even for 600PS
<POINT-3> Circuit test proven & "Made in Japan" reliability!
After plenty of testing on the engine bench, the kit was also tested in conjunction with the GT3240 kit to produce the 600PS CZ200S which went on to perform at various time attack events. This data was analyzed to deliver maximum performance but most importantly reliability. This item is made in Japan at HKS' internal manufacturing facilities.
HKS 2.2LKIT
Stock
Piston
Bore (mm)
86.5
86.0
Displacement (cc)
2,139
1,998
Compression Ratio (ε)
G/K1.0mm
8.7
9.1
G/K1.2mm
8.6
9.0
G/K1.6mm
8.4
8.8
Recess Capacity (cc)
12.1
4.5
Remarks
Forged
Oil Ring: 2pcs
Casting
Connecting Rod
SCM + Cariburized quenching
I-beam Forged Cranking
SC Material
Crankshaft
Stroke (mm)
91
86
Remarks
SCM Material + Isonite (Tufftride)
Forged Full Counter
SCM Material
Performance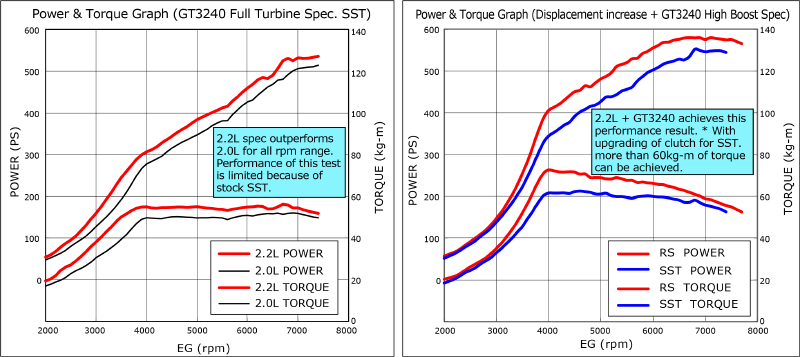 For info on Evo X 4B11 2.2L Stroker Kit please go here
For info on our full range of goods and services please go here
HKS BUSINESS
HKS has been conducting various businesses. Design, development, and manufacturer of automobile parts including original exhaust systems and suspension, turbocharger, electronic parts, and related parts are mainstream.
Development of race engine and ultralight plane engine are also highly regarded. Furthermore, by utilizing the technology accumulated through development of the gasoline engine parts, modification of a diesel engine to convert to a natural gas engine and development of the Bi-fuel system development have carried out. HKS continues to challenge new business from now on.