Description
FA20 HKS 2.1L Stroker Kit (low Compression) – 21004-AT003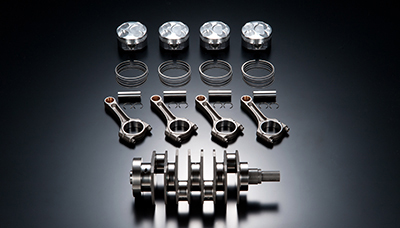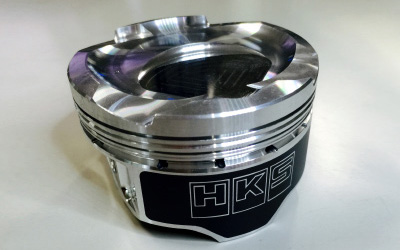 【Capacity Upgrade Kit for FA20 Low Comp】
High boost tuning in the era of direct injection engines!
The low compression type FA20 2.1L Kit is available for high boost tuning.
Upgrading with forced induction is very common for the FA20 engine tuning.
HKS has developed a highly durable low compression piston required to move onto the next tuning level.
Features
POINT-1 Piston
Forged material improves durability.
The cavity is designed in piston crown to optimize the atomization of fuel during injection.
3D Piston crown design to optimize tumble flow.
The piston is recessed to match high lift HKS camshafts.
The compression ratio range is widened depending on the gasket's specification.
Molybdenum coated pistons reduce friction.
POINT-2 Connecting Rods
STEP1
Cracked connecting rod is chosen for the long stroke. The big end size is designed to omit modification of the engine block.
(Nissan genuine bearing for RB26 and SR is required separately)
Highly durable I-beam and cracked connecting rod are included. The connecting rod bolt size is optimized.
STEP2
The thickness was optimized by strength analysis. The weight increase was minimized, and the strength was increased by approximately 30%.
I-beam shape was selected to increase the buckling strength.
The ideal shape was realized, and the fracture origin on the surface was eliminated by forged billet manufacturing. To improve fatigue strength, strong shot peening treatment is carried out on the surface.
The optimum heat treatment for chrome molybdenum steel was carried out to improve both strength and toughness.
POINT-3 Crankshaft Stroke 90.0m
The crankshaft is made from forged materials.
Bespoke pin journal size is employed.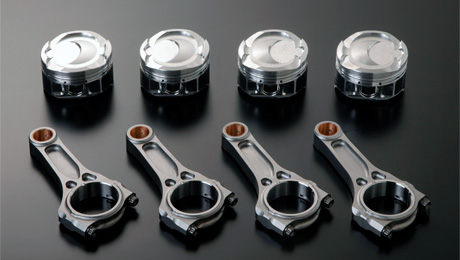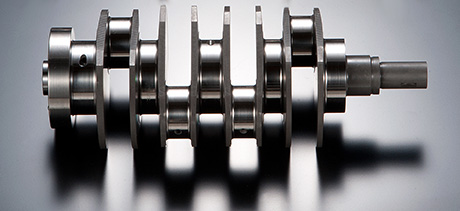 Compression ratio when using normal cylinder head
Head gasket thickness (mm)
2.1L KIT
2.1L KIT
LOW COMP
STOPPER TYPE
0.5
12.4
11.1
0.7
12.1
10.9
1.0
11.8
10.5
GROMMET TYPE
0.8
–
10.8
1.2
–
10.4
■Specification
| | HKS 2.1L LOW COMP KIT | Genuine |
| --- | --- | --- |
| Bore | φ86.0 | φ86.0 |
| Stroke | 90.0mm | 86.0mm |
| Displacement | 2,091ml | 1,998mm |
For info on FA20 HKS 2.1L Stroker Kit (low Compression) please go here
For info on our full range of goods and services please go here