Description
GT-R32 HKS Oil Cooler Kit – Type S – 15004-AN003
【OIL COOLER KIT】
It's very important to control the oil temperature to enjoy driving.
Extreme increases in oil temperature can break down the oil and decrease its ability to lubricate, cool and clean the engine and can cause damage as a result. HKS Oil Cooler Kits are designed with advanced cooling technology which enables stable oil temperatures to extract the maximum ability from the engine.
Oil Cooler Kit for Vehicle Specification
The optimum size of the core and layout design improves cooling performance.
With the use of a new core, both cooling and pressure drop prevention are balanced at a high level. Some vehicle applications contain air guides that maximize the airflow through the oil cooler core during vehicle operation, even in drifting applications where the car may not be facing in the direction it is pointing.
* Some kits are the factory replacement type.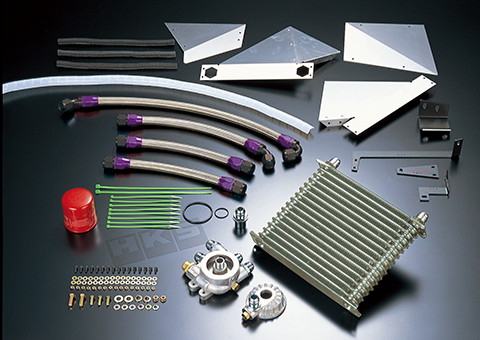 S TYPE
HKS Oil Cooler Kit S Type is a sandwich-type which has a built-in thermostat attachment.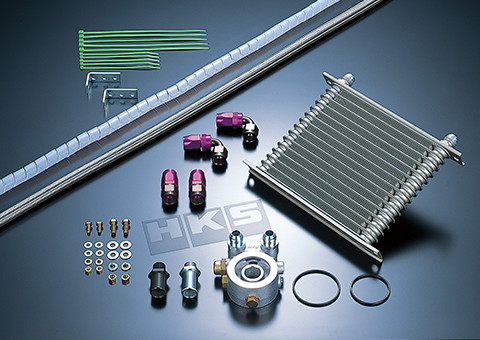 The core on the above photo is different from the actual core included in a kit.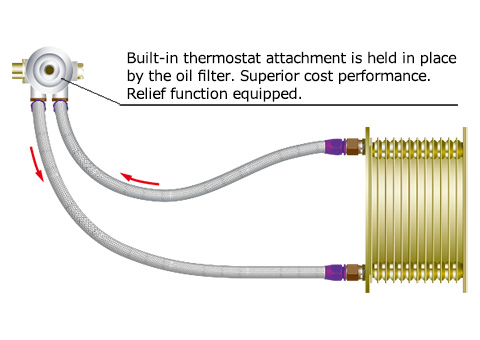 HKS Oil Cooler S Type included a built-in thermostat attachment, and which is held in place by the oil filter. The minimum number of components allows simple installation.
HKS Oil Cooler S Type includes a built-in thermostat attachment, and which is held in place by the oil filter. Also, it provides superior cost performance.
[ Oil Temperature Meter: Oil Pressure Gauge Installation Hole]
Adaptor Thermo: M12×P1.25 (1hole) , PT1/8 (1 hole)
Note on Installation of Universal Oil Cooler Kit
Before Purchasing the Product
There are inapplicable vehicles depending on vehicles' specifications.
Check the following to make sure the kit is compatible with your vehicle.
1. Screw Size for Oil Filter Installation
The screw size must be 3/4-16UNF or M20×P=1.5.
2. Clearance for Attachment Installation
To install the engine block attachment, adequate clearance is required. See the diagrams below. (In unit of mm)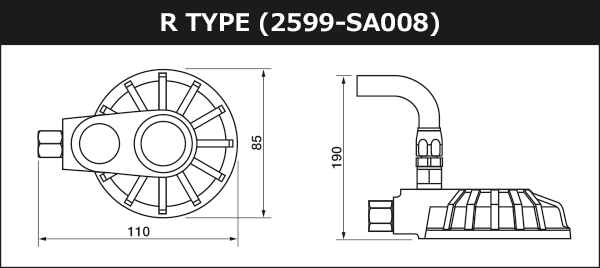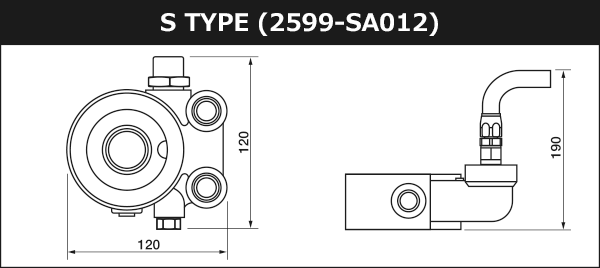 3. Oil Filter
The screw can be installed properly as shown in the diagram on the right.