Description
McLaren MP4-12C FRS Optimisation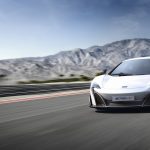 We have had excellent feedback on our Stage 1 McLaren MP4-12C FRS Optimisation! Most McLaren drivers report feelings of chassis nervousness and non-linear performance characteristics which reduces confidence and driving pleasure.
Drawing of our years of expertise in Chassis Dynamics we have spent a considerable effort in developing revised geometry settings that transform the dynamic performance of the McLaren 570S.
Our objective was to make the chassis more balanced, settled and linear so that the driver can have greater confidence in pushing the car to it's limits.
Customer feedback from the first ever McLaren we did: " it's like driving a completely different car and is so much more confident pushing the car now so much so he's booked it on the Nürburgring"
Please note that this is a drive in – drive out only service.
"The chassis must feel right because a sports car is a fun machine, a joy to use that when used properly is a life-affirming experience."
We have been helping people to build their perfect four wheel companions since 1983, doing this has taught us that when helping to build an enthusiast's personal idea of perfection listening to driver feedback is literally everything when it comes to generating the perfect handling dynamics.
We understand that to achieve the very best results for our clients we must pay careful attention to the all-important link between the human and the machine, how the car feels in the driver's hands as they offer the steering towards an apex, how the chassis communicates whilst it smoothly checks back into line with a wrist-flick of opposite lock, we start to focus on this key aspect very early on in the car building process.
We have learned that when it comes to real sports cars and real car enthusiasts this tight bond with the machine is every bit as important or perhaps even more important than the ability of the vehicle to set a lap record around a racing circuit.
When it comes to improving a chassis we like to start by talking to the driver first and foremost, by talking with the driver we can understand what the end goal should look and feel like. It's once we have this clear target of just what it is we are looking to achieve with a given chassis that we can bring out our big guns in terms of chassis development tools.