Rototest Hub Dyno Rental
Are you looking to buy a rolling road or chassis dyno for your business but can't justify the cost? Do you want to hire a rolling road or chassis dyno for a one-off project? Have you found the limitations of your rolling road and need a better chassis dyno? Are you looking for a Tuning company near London, Essex and Kent with a very high core skill levels? Look no further, our Rototest Hub Dyno rental service could be the ideal solution for you!
Our world class Rototest hub mounted dyno is available for hire by the hour, half day or full day at very competitive rates.
We are offering our Rototest chassis dynamometer for rental by manufacturers, tuning companies and private individuals who want to carry out their own ECU mapping and tuning, or diagnostic procedures. Tests available include steady state, constant load, power runs, acceleration and top speed simulations.
Of course we also very happy to undertake the whole project for you using our fully skilled Academy of Motorsport Sciences and ATA Mastertech certified Technicians.
We have just upgraded our Rototest chassis dynamometer so that the rear units can cope with 4600 Nm in steady state testing mode.
In addition to this we have also included the Dynamic pack which enables simulation of inertia, rolling resistance and aerodynamic drag to provide acceleration and top speed testing. We believe that this upgrade along with our fully air managed and sound proofed test cell is one of the best facilities in the UK that is available to the general public.
We are conveniently located at junction 31 on the M25 in Essex.
Please review this page for further information https://www.tdi-plc.com/b2b/chassis-dyno-cell-hire/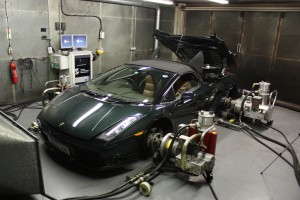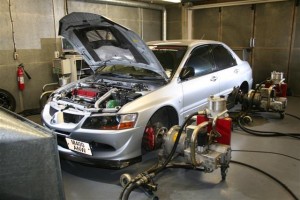 Please contact us for further information at https://www.tdi-plc.com/contact-us/
Update 24/9/2011: We welcome many Tuners having their own rolling road use our dyno facility in the circumstances where very high power output engines exceed the limitations of their own equipment.