TODA Racing Honda B18C HIgh Strength connecting rods
The B18C Honda VTEC engine is well known as a tuner's favourite, where its ability to produce very high power outputs is the stuff of legend.
But even the very best of production engines need upgrades to withstand heavy doses of brake horsepower, which is why TODA Racing has developed a set of high strength 'I' – section chrome-molly connecting rods which greatly uprate the strength of the B18C motor's bottom end.
Key features of the TODA Racing Honda B18C high strength connecting rods including:-
* Fully floating little end bushes for 21 mm Ø gudgeon pins
* Each rod is balanced to +/- 0.1 grams
* 10% lighter than standard Honda connecting rods (495 vs 547 grams)
* Rod length of 137.9 mm
The TODA Racing high-strength I-Section connecting rods are available now from TODA Europe, priced at £1695.00 per set, excluding VAT.
To purchase this product, please click on the following link:- https://www.tdi-plc.com/catalog/toda-racing-b18c-connecting-p-19284.html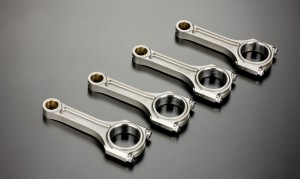 TODA Racing has started as a formula machine constructor in 1971. Utilizing the advantages in our racing experience, we supply TODA original racing parts such as camshafts and pistons. We also focus on engine development and research and development for combustion efficiency, reducing fuel consumption, and lowing emissions.
TODA RACING designs and manufactures racing engines and automotive components. Since the company's establishment, we have continually strived to understand how to burn each drop of fuel more efficiently. With the goal of increasing combustion efficiency, reducing fuel consumption and lowering emission outputs, our recent research and development endeavours have primarily focused on the application of advanced technologies, such as direct injection systems, into advanced eco-friendly engines.