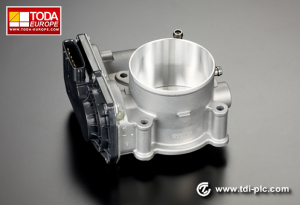 Toda Racing has just launched it's new big throttle body for the Toyota GT86 and Subaru Impreza BRZ.
Increasing the diameter of the throttle and in combination with a tapered entrance helps to increase the amount of air the engine can breathe, giving improved performance.
The internal dimensions of the throttle valve diameter are increased from 65mm to 68mm, and the tapered entrance starting at a diameter of 72mm all maximum size provides an increase in area of 9%.
With the throttle controlled via drive by wire, the throttle shaft has not been modified to be thinner ; this is to increase the life of the single throttle body by retaining a more rigid shaft. To compensate for this the throttle diameter was enlarged to be the maximum possible size.
The Toyoa GT86 Toda thottle body can be reviewed and purchased here.
The Impreza BRZ Toda throttle body can be reviewed and purchased here.
TODA Racing has started as a formula machine constructor in 1971. Utilizing the advantages in it's racing experience, it supply TODA original racing parts such as camshafts and pistons. We also focus on engine development and research and
development for combustion efficiency, reducing fuel consumption, and lowing emissions.
TODA RACING designs and manufactures racing engines and automotive components. Since the company's establishment, we have continually strived to understand how to burn each drop of fuel more efficiently. With the goal of increasing combustion efficiency, reducing fuel consumption and lowering emission outputs, our recent research and development endeavours have primarily focused on the application of advanced technologies, such as direct injection systems, into advanced eco-friendly engines.