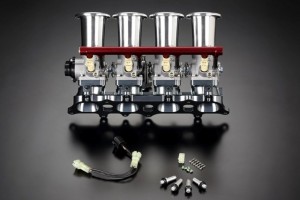 Toda Racing Throttle Body Kit for Toyota 3SG
At long last Toda Racing has released a multi throttle body kit for the Toyota 3SG as found in the SXE10 chassis Altezza, which they call "Sports Injection".
Available with trumpet lengths of 33mm, 63mm and 88mm so that you can select the most appropriate ones to suit your power band, the Toda Racing Sports Injection kit gives superior throttle response and improvements in power and torque.
You can review and purchase the Toda Racing 3SG Sports Injection kits here:
TODA Racing has started as a formula machine constructor in 1971. Utilizing the advantages in our racing experience, we supply TODA original racing parts such as camshafts and pistons. We also focus on engine development and research and development for combustion efficiency, reducing fuel consumption, and lowing emissions.
TODA RACING designs and manufactures racing engines and automotive components. Since the company's establishment, we have continually strived to understand how to burn each drop of fuel more efficiently. With the goal of increasing combustion efficiency, reducing fuel consumption and lowering emission outputs, our recent research and development endeavours have primarily focused on the application of advanced technologies, such as direct injection systems, into advanced eco-friendly engines.