Toyota GT86 and BRZ Toda Racing Fightex Suspension Kit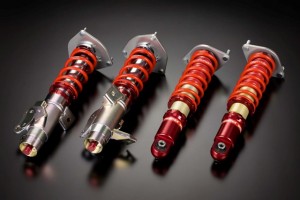 Toyota GT86 and BRZ Toda Racing Fightex Suspension Kit
World famous Japanese racing engine and suspension manufacturer Toda Racing has just launched a new suspension kit for the Toyota GT86 and Subaru BRZ.
Falling within it's very well established "Fightex" range, the kits are available in DA and DA-G formats. DA stands for Dual Adjust which means that the ride height can be changed without affecting the spring pre-loading, as both the bottom spring seat and the bottom bracket are adjustable separately, and naturally have adjustable damping. The DA-G kit is for Gymkhana so is better suited for track use. The key features are:
 All processes done in-house at Toda Racing
Ride height adjustment independent of spring pre-load
Ajustable damping
Includes pillow ball upper mounts
Front height adjustment range = +12mm to -40mm
Rear height adjustment range = +11mm to -40mm
Front lower brackets allow camber adjustment
The Toda Racing GT86 and BRZ Fightex suspension kits can be reviewed and puchased here:
TODA Racing has started as a formula machine constructor in 1971. Utilizing the advantages in our racing experience, we supply TODA original racing parts such as camshafts and pistons. We also focus on engine development and research and development for combustion efficiency, reducing fuel consumption, and lowing emissions.
TODA RACING designs and manufactures racing engines and automotive components. Since the company's establishment, we have continually strived to understand how to burn each drop of fuel more efficiently. With the goal of increasing combustion efficiency, reducing fuel consumption and lowering emission outputs, our recent research and development endeavours have primarily focused on the application of advanced technologies, such as direct injection systems, into advanced eco-friendly engines.