Custom ECU Tuning vs Generic Reflash – Which is Better? This is a question that we encounter frequently!
Typically, what tends to happen by those companies that offer generic tuning files or reflashes is that they buy the file from another firm, normally in a different country or even different continent, and then sell it to you. At no time does the person preparing the calibration file get to see the car it's destined for, or does he see the car once the tuned ECU calibration been installed.
Calibrating an ECU properly is very much an itirative process of changing and checking all of the load sites on a dyno to ensure that they're optimised. It's a relatively difficult and lengthy process, but the rewards are optimised performance and engine reliability.
A good example to demonstrate this is a client who brought his supercharged Lotus Elise to us for mapping after having had unsuccessful attempts at having "generic" tuning files downloaded to his ECU by another firm local to us.
The client reported poor performance, poor drivability and a generally unpleasant road manners. The car had been returned several times for the company to attempt rectifying these issues, all to no avail even after trying different ECU calibrations.
Having been brought tu us for fault diagnosis, our first dyno run produced the grey power and torque curves shown above, and the AFR trace showed a dangerously lean condition.
Understanding the limitations of generic tuning files, we installed a PiP ECU which is a great piece of kit being a true "plug and play" solution offering complete control over all dynamic engine parameters, and also features an adjustable traction control facility.
Following installation and careful mapping we were able to produce the red power and black torque curves shown above. Drivability and road manners were also dramatically improved which completely transformed the car. After being inconvenienced and unhappy for weeks with the generic ECU file, our client had restored confidence again within only 6 hours of being worked.
The results of our Custom ECU tuning vs generic reflash test: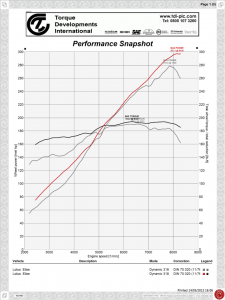 There's another blog article that shows the processes involved with installing and tuning a PiP ECU to a Lotus which you can read here.
The Syvecs ECU can be reviewed and purchased here.