Description
VR38DETT HKS 4.3 Stroker Kit – Nissan GT-R35 – 21004-AN019
Capacity Upgrade Kit】
For drivers who just need "more power and more torque", HKS has designed a series of capacity upgrade kits to suit the characteristics of each engine. Increased displacement offers more torque at lower engine speeds and by using the highest quality materials, the durability required for high levels of tuning is achieved. Nickel-coated pistons which have strong anti-knocking properties combined with fully counterweighted crankshafts and high strength connecting rods (rods optional in some kits) combine to extract maximum performance from the turbocharger and increase torque.
Features
<POINT-1> Piston Kit
The billet pistons have the ideal piston shape.
The special truss shape enhances durability and makes ultra-lightweight pistons.
A squish area allows high rate combustion.
<POINT-2> Connecting Rod
The connecting rods were designed specifically for this kit. Engine modification is minimized.
<POINT-3> Crankshaft Stroke – 99.0mm
9.0mm stroke without bore size change is incomparable.
Billet crankshaft.
The vibration generated from V6 engine is reduced to the degree to be not annoying by precise balance adjustment. (The included parts must be used together.)
The structure was designed to reduce the load to the metals so it can withstand the increased load to the main metal due to higher torque.
High-efficiency heavy metal made balance weight reduces the weight and achieves high engine response.
<POINT-4> Compatible with Stock Bore Size – 95.5mm
The bore size is the same as the stock size to maintain the engine block rigidity and the ideal heat conduction for optimal engine performance.
Modification of liner is not necessary so the cost related to this liner modification can be saved.
<POINT-5> Special Oil Jet
A special oil jet to cool down the pistons to the optimum level is newly designed.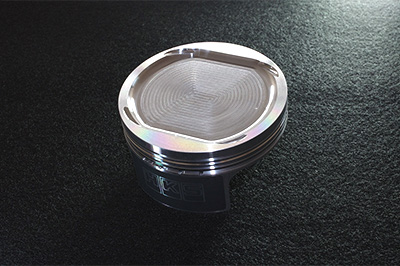 The Billet Piston employs an appropriate squish area to improve fuel combustion.
Adopting the molybdenum piston skirt coating reduces the friction caused by the piston movement.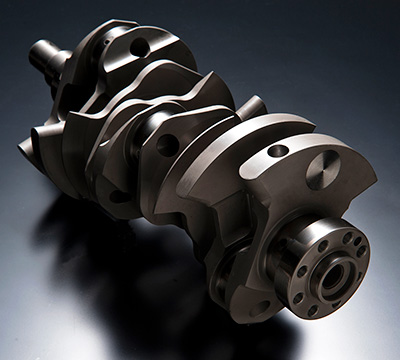 A billet-crankshaft with high efficient balance weight reduces vibration, improves engine response, and decreases the weight.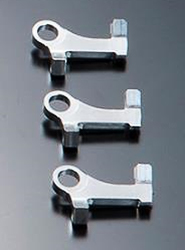 A special oil jet cools down the pistons to the optimum level.
Balancing was performed based on the products included in this kit. Using other products with this kit may cause engine vibration.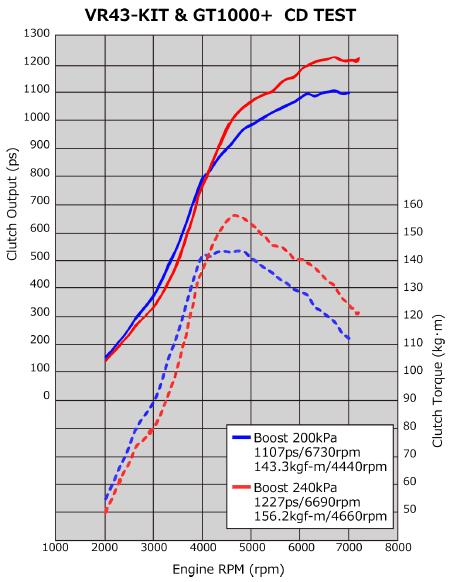 Specifications
| | HKS 4.3L Kit | Stock |
| --- | --- | --- |
| Bore | 95.5mm | 95.5mm |
| Stroke | 99.0mm | 88.4mm |
| Comp. ratio (t=0.8) | 8.6 | 9.0 |
| Tolerate RPM | 7400rpm | 7000rpm |
| Displacement | 4255ml | 3799ml |
For info on VR38DETT HKS 4.3 Stroker Kit please go here
For info on our full range of goods and services please go here