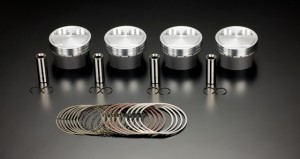 Suzuki Swift Forged Pistons from Toda Racing. Toda Racing has introduced a new range of forged pistons for the Suzuki Swift ZC31S and ZC32S using the M16A engine, that's specially designed to cope with the increased stresses imposed by racing activities and turbocharging, and also increases the engine displacement to 1884cc.
The Toda Racing forged aluminium pistons feature an anti-scuff coating and are 85mm diameter which increases the displacement from 1586cc to 1884cc.
Available in the following various compression ratios to suit different application:
Please note that the Toda Racing Power Liner kit and cylinder gasket is required for these pistons.