Toda Racing GT86 and BRZ Exhaust Manifold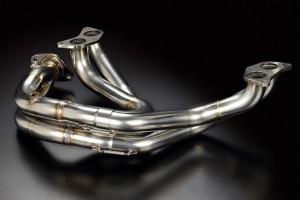 We are delighted to offer the Toda Racing GT86 and BRZ exhaust manifold for the Toyota and Subaru sports cars. As usual with all Toda Racing products, the manufacturing quality is excellent, and the research & development programme ensures that the performance is second to none!
The exhaust pipe lengths and diameters are optimised to maximise torque output throughout the entire engine speed range, and particular attention is paid to the internal flow path to ensure that it is as smooth as possible in order to minimise restrictions, and the collector is carefully designed to merge the pipes at the correct angle.
The flanges are CNC robotically manufactured from stainless steel, the pipes are mandrel bent thick-wall stainless steel, and the joints are sealed by TIG robots to ensure consistency.
This exhaust manifold can be used alone or in conjunction with the full range of Toda Racing high-performance components such as high-power muffler single silencer and dual silencer , 2.3 litre stroker kit, high-lift camshafts, big throttle body etc.
Please go to this link to review and purchase
For those unaware, Toda Racing was established in 1971 to produce racing engines for the GT1 race series, and since then has gone on to secure countless victories in high-level Motorsport in series such as F3, JTCC etc. They have also made themselves an envious reputation in the road car tuning scene where they are known for excellent performance and reliability.