"Plug and Play" ECU now available for Porsche 996 and 997 Turbo!
For those requiring the absolute ultimate performance from the their Porsche, Syvecs has just released their S8 ECU for the 996 and 997 Turbo.
Proudly manufactured in Britain, Syvecs is a version of the ECU that powers many top-flight motor racing engines, that simply plugs into the existing Porsche wiring harness making the installation cost significantly reduced.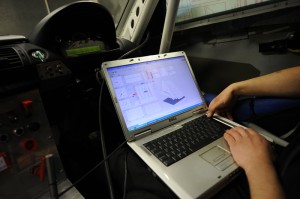 This extremely powerful tool allows us to optimize the ignition timing, air/fuel ratio, boost pressure, cam timing and throttle position to make the engine more powerful and responsive. Anti-lag, traction control and launch control features are available to increase vehicle performance, and some key engine safety features can be deployed in order to prevent expensive engine damage.
The Tiptronic models can also be enhanced with complete control over the transmission via the Syvecs!
If you are interested in substantially interested in improving the performance of your Porsche;
The Porsche 997 Turbo Syvecs ECU can be reviewed and purchased here.
The Porsche 996 Turbo Syvecs ECU can be reviewed and purchased here.
Torque Developments International is the appointed UK demonstration centre for the Rototest VPA-R chassis dynamometer system.
Torque Developments International was the first tuning company in the UK to use the Rototest VPA-R and provide comprehensive scientific quality testing methodologies to the general public. Up until then this level of testing had been the sole reserve of Tier 1 manufacturers and well funded race teams such as Cosworth, Penske Racing, Andretti, Opel, Mercedes Benz, Chrysler, Shell etc.
The reason that we selected Rototest over cheaper chassis dynamometer systems is because of the superior control, accuracy and repeatability that it affords.
Rototest actually invented the hub mounted dyno system and held the patent for this design. Being directly bolted to the wheel hubs overcomes difficulties and inaccuracies associated with a rolling road chassis dyno. Suspension camber and toe angles, tie-down tension, tyre slip and carcass deformation, changes in tyres temperature/pressure and the danger of explosion etc are all completely eradicated thanks to the Rototest system. There is also an important consideration concerning the potential for undetected tyre damage caused by rolling roads. Add in the potential for the car to come loose during testing (particularly those with very high power outputs) and you can see why we do not use a "rolling road".
The importance of using high quality equipment becomes apparent when calibrating an engine management system (sometimes referred to as ECU "mapping" and "tuning"), as accuracy and repeatability are absolutely crucial to achieving optimum performance. In addition to the quality of the equipment, the competency of the calibrator (sometimes referred to as "Mapper" or "Tuner") is vital. Our calibrators are very highly qualified and experienced, and actually teach at the Academy for Motorsport Sciences.
The combination of first class equipment, knowledge and skills affords Torque Developments with exceptional ECU calibration/tuning capabilities.
Please contact us for more information.